[Andalousia] [Serbia] [Rajasthan] [Morocco] [Jerez-Tanger 2008] [Jerez-Cádiz 2009] [Jerez 2010] [Jerez 2013] [Jerez-Cádiz 2014]
---
Trip to
Serbia
, August 2007
---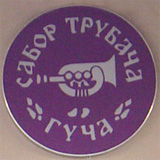 A trip to Serbia in order to learn two kind of dance: Kolo also called Oro and Cocek.
Kolo (or Oro) is a traditional folk dance performed by a group of people, hand in hand, in an open circle or chain dance. Cocek is the dance of the Rroma people living in the South of the Balkan States.
The first five days were dedicating to the dance course organised by Simona Jovic in Belgrade, a pleasant city situated at the confluence of the Sava and the Danube rivers. A city located at the crossroads of Europe where influences from Austro-Hungarian Empire and Ottoman Empire are still visible and sometimes largely detectable.
Then, a three hour trip led us to a small village called Guca where every August the Balkan Brass Band Festival is held. Guca has gained world fame owing to its Assembly of Trumpet Players and each year, a huge amount of tourists attend this music-centered celebration. 3 main prizes are in competition : the best trumpeter, the best orchestra, and the golden trumpet of Dragacevo.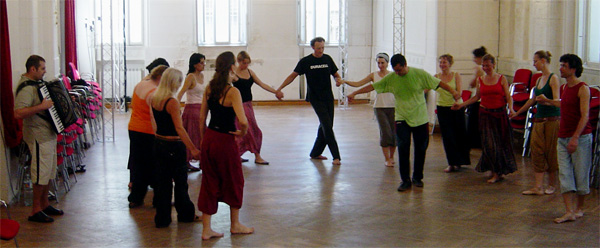 Learning and practising a kolo with our teacher, Mr Dobrosav Grocic



Traditional Serbian costumes,
Ethnographic Museum of Belgrade


Dancing a cocek enjoying live music played by a gypsy orchestra from Vranje
---



Folk Dances from Montenegro performed in Guca





Demiran Cerimovic Orchesta, winner of competition: Best Orchesta in 2006 and 2007!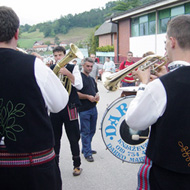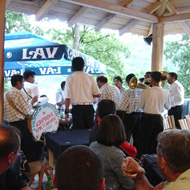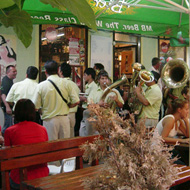 Brass band, Brass band everywhere...
To know more about Guca Brass Band Festival, I recommend the film called "Guca" directed by Milivoj Ilic (Serbia 2006). Interesting website: www.sabortrubaca.com and also www.guca.co.yu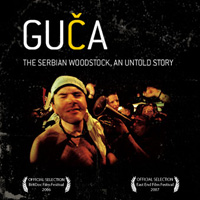 ---