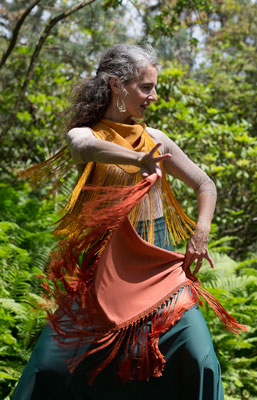 It is not easy to describe and tell about oneself!
Anyway, I will try...


Born in Paris, I have loved dance and music since my childhood. I have learned various forms of dance, from ballet to modern dance. However, I studied political sciences, international economics and Spanish in Paris. After graduating from University, I began to work abroad, firstly in Brussels and later on in South America. In 1998, I had a passion for Flamenco. I intensely studied with Sandra Claren in Santiago de Chile, with Marisa Cura in Buenos Aires, and gained further experience through international workshops with renowned dancers such as Eva la Yerbabuena, Belén Maya and Soledad Barrio. At the same time, I discovered Raqs Sharqi (also called Belly dance) and I was captivated by the elegance, refinement, femininity and expressiveness of this dance. I trained with Angie Rega in Chile, with Paula Lena in Argentina and continued my studies with Leila Haddad, Hossam Ramzy and Serena, Zizou and Farida Fahmy among others.

Equally charmed by Flamenco and Raqs Sharqi, I was spontaneously encouraged to integrate both, creating a new and original form of dance. I chose to baptize it Flamenco Descalzo® -Barefoot Flamenco in English. Flamenco Descalzo® is synonymous with fusion and synthesis. It returns to the flamenco's roots and puts a strong emphasis on Moorish and Gypsy influences. Fascinated by the Gypsy Trail, I started investigating the huge impact of Romany people in Dance and Music. This research feeds my creative work and the dances of the Romany people are nourishing Barefoot Flamenco which gradually incorporates their moves, their gesture, and more importantly, is inspiring by their nomadic spirit and sense of freedom.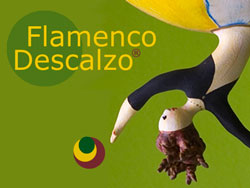 Passionate and curious, I continuously mean to extend my knowledge in order to develop Barefoot Flamenco and allow this innovative dance to be progressively deep-rooted. As I moved to London, I trained with Suraya Hilal and Alessandro el Bascioni (Hilal dance), with Jo Wise (belly dance). I attended twice the Raqs Sharqi Society's Summer School enjoying quality and diversity of the teaching. I often took part in Dance Festivals such as Majma, Fantasia or Sirocco and opted for attending courses specialized on traditional and folk dances. I have learned with Miriam Szabo in Brussels (Gypsy duende), with Nadia Saiji in Paris (traditional Tunisian dances). I have discovered the vitality of the Amazigh (Berber) dances thanks to astonished dancer Amel Tafsout, got training in Gypsy dances with Simona Jovic. In January 2007, I went to Rajasthan in order to find out more about the Kalbeliya dance and learn directly from Gypsy dancers. I must say that dancing with people from the Sapera nomadic tribe living in the little town of Pushkar was a fabulous experience! In August 2007, I travelled to Serbia and learnt in Belgrade the dance called Kolo (traditional folk dance from the Balkan area), and more importantly Cocek, which is the dance of the Romany people living in the South of the Balkans States. This trip was a second fabulous field experience! The summer 2009 was a kind of back-to-basics thanks to an inspiring trip to Jerez de la Frontera full of Flamenco (Trips' reviews are avalaible in inspiration). As a living art form, Flamenco is incorporting new elements and I try to be aware of this evolution. Over the past few years, I have attended intensive workshops with Pastora Galván, Javier Latorre, Mercedes Ruiz and Juan Polvillo in London, with Concha Jareño in Rivesaltes, with Carmen Ledesma and Cristina Hall in Paris, with Chiqui, Rocio Molina and Mercedes Ruiz in Jerez de la Frontera.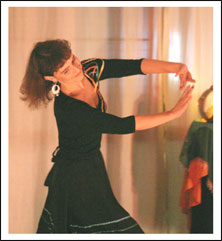 I had been teaching and performing for several years in Argentina before I moved to England in 2005. Based in London during 8 years, I have deepened my dance style and settled my teaching activities. I have initiating several dance partnerships such as |A Cuatro Manos| with Patricia Álvarez and |Retour aux Sources| with Sarah Avril. In 2013, I chose to come back home and had new projects in mind! Some of them are alive and well : |Essences d'une danse| with Claudine Vergne ; |Danses du Voyage| along with Emmeline Lovisi and Marilyne Giorno.

Teaching, sharing knowledge, revealing abilities is one of my favorite and most satisfactory activities. I am currently teaching weekly classes in Paris and regularly conduct workshops in different European countries. I travel to Buenos Aires once a year to share and dance Barefoot Flamenco with my very first students! Fascinated by Yoga, I have decided to become a Hatha Yoga teacher. From september 2017, I attend with genuine interest the classes of l'Ecole Française de Yoga (EFY).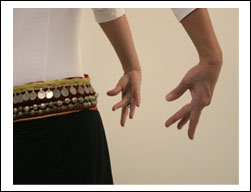 In class, I love to use my extensive background in corporal technique (thanks to my regular practice of Yoga, Floor Barre and Pilates) to help my students refine their posture, improve their alignment, grow roots and gain confidence. I also make use of my musical knowledge to help them become familiar with complex rhythms. My teaching method is based on choreography as well as guided improvisation. My aim, as a teacher, is to give my students not only the opportunity to incorporate technical elements but also the possibility to achieve moments of freedom, joy and vitality through their dance.

Valérie Romanin